Guide to booking a hotel in Barcelona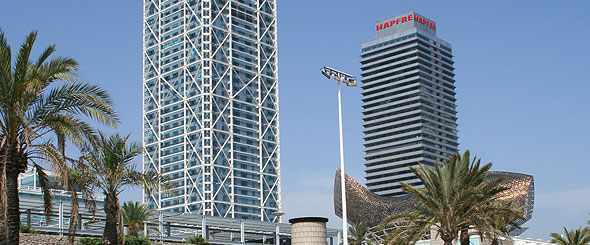 If this is your first time to Barcelona then it's essential you book your hotel in the best location possible.
We've heard of some people getting tempted by Hotels near to Camp Nou, the football stadium of Barcelona FC, only to find it's miles away from all the great interest spots of Barcelona.
On your first visit to Barcelona it's advised to book somewhere within 5 to 10 minutes walk from Las Ramblas.
This gives you some good options as Las Ramblas stretches for three quarters of a mile. To the right of Las Ramblas is the historic Gothic Quarter and to the left, Raval. Both these areas are in close touch of many great areas popular with tourists, though sadly this also attracts pick pockets.
At the top of Las Ramblas, north of Plaça de Catalunya you will find many great hotels in an area slightly less populated with tourists. The Born district, to the south east of Las Ramblas is another recommended area to stay.
Sometimes hotel prices can vary considerably, usually because a big event is on in the city such as the Formula One Grand Prix or some of the many Conventions held in the city.
If you use our search below you will be able to compare hotel prices in Barcelona. You can sort results close to Las Ramblas or any other areas you would like to stay.