Barcelona VIP Nightlife Card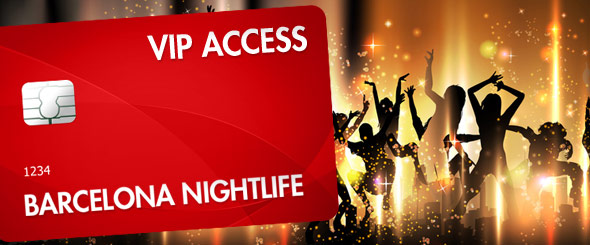 VIP Nightlife Card Overview
This card is available all year, every day*
Enjoy VIP treatment and "skip-the-line" access at Barcelona's most exciting and exotic clubs and lounges
VIP entrance to Barcelona's best clubs and bars
A night of privilege and glamour
Avoid queues and entry fees
VIP Card just €26.95 per card per night
OR two night access for just €39.95

VIP Nightlife Card Description

If you want to see how Barcelona likes to party with guaranteed access to all the best bars and clubs, then this VIP card is what you're looking for.
Our VIP nightlife card provides you free VIP entrance to all the top nightclubs and bars, it also gives you access to the Casino Barcelona and has a concierge service attached.
The card has an activation device. When the tab is removed, the card will illuminate for a period of 8 hours. While the card is still glowing you've got VIP access, giving you a great opportunity to see many of Barcelona's best bars and clubs. Show your activated card to the doormen for VIP entrance.
Bars & Clubs our VIP card offers access to...

Sutton Club
La Terrazza
Pacha Barcelona
Opium Barcelona
Hyde Club
Club Astoria
Otto Zutz
Danzatoria
Universal
Important notes
The majority of clubs in Barcelona have a smart dress code. It is always advisable not to wear shorts, sneakers, flip-flops. We're not responsible for non entrance due to incorrect dress. Nightclubs and bars have all rights reserved.
* Entrance on special events, big name DJ's or New Years Eve are at the discretion of each club.